Welcome to the G.R.U.N. Foundation. Our Mission Statement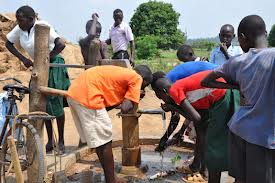 It is my pleasure as president to present to you the statement of purpose of the G.R.U.N. Foundation.
We all have important values and ideas, things we care about and want to share. Sometimes we feel our ideas can even change the world, and we want to let other people know how they can join in and make all our lives better.
The G.R.U.N. Foundation is a philanthropic private foundation. From the beginning, the Foundation has sought to indentify the causes of human sufferings and needs. Our board of directors will meet four times a year, setting program guidlines, financial policies and approves applications.
The Foundation is a knowledge-based, global Foundation with the commitment to enhance the lives and livelihoods of poor and excluded people throughout the word. We work in conjunction with governments, corporations and private sectors. We work hand in hand with many corporations throughout the world who have a big heart, for helping to fulfill their goals in humanities, and to improve quality of life, by applying modern technology, by reducing the use of chemicals and other additives in our daily lifes."
How you can help and partcipate ?
Individuals, companies or organizations who would like to donate their knowledge and time to help research, start and complete projects please contact us at info@GRUNfoundation.com
Thank you.
Rt Hon. Guenter A. Rieger, Founder & President
The G.R.U.N. Foundation,
PO Box 1464, Vernon,BC V1T 6N7
Canada
PHILANTHROPY
has a vital role to play in sharing the world of today and tomorow. It can support innovation at the grassroots level and can be implemented to enhance peoples lives who are in need Philanthropist around the globe initiated movements of great social changes - - among them, settlement houses, the civil rights movement, control of diseases and many other positive changes for society.
.
.
"You don't have to be perfect to make a difference in this world. We were all created with amazing gifts and potential just waiting to be unlocked. Each of us has our own unique gifts. Find your strengths and don't let your shortcomings hold you back from taking action. Celebrate your gifts. Let your strengths guide you and let your true inner self shine."
-Author unknown-
"The world is a dangerous place to live; not because of the people who are evil, but because of the people who don't do anything about it."
-Albert Einstein-
____________________________________________________________________________________________________________
Copyright © 2005-2019 GRUN Foundation